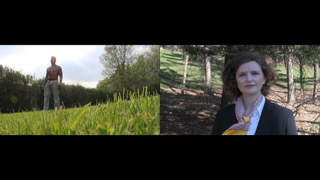 Meander to the second floor of the barn at Maple Shade Farm to view time-based works of art by nearly a dozen local and regional video artists and filmmakers. Enjoy experimental works throughout the day with scheduled screenings of short documentary and narrative films (tba). Video artists and filmmakers include: Becky Davis, Jaclyn Tyler Poeschl, Jessica Veccione and Lillian Browne, Joseph Von Stengel, Christina Hunt Wood, and more.
Here are some of the films we'll be showing:
Realms of Memory, 2017. By Rebecca Davis
Realms of Memory is a meditation on family, place, and shared memory. The audio in this work emphasizes the overlapping memories of the artist's mother and grandmother, mostly dealing with childhood homes and sharing food. The contrasting video documents the locations of various memories from her own childhood home. The work questions how family culture shapes the memories we retain. Themes, such as food, place, change over time, relationships between people, and even the language used to describe these memories weave together a story about the experiences of three individuals and the ties that bind them together.
Isaiah's Inventory, 2017. By Rebecca Davis
Isaiah's Inventory is experiential engagement with the past as the artist transcribes an inventory of her 5th great grandfather's estate that lists the names of the enslaved, alongside farm animals and objects as mundane as lumber, meat, and kitchen furniture. This list includes the names of the artist's 4th great-grandmother and her children, the biological grandchildren of their owner. The action of writing is reversed, metaphorically attempting to undo the effects of a complex and troubling history that cannot be erased.
Oh! The Measures, 2016. Directed by Christina Hunt Wood. Approx. 3 minutes
Oh! The Measures is a poetic narrative reenactment of the first encounter between Wood's African American father and European American grandmother. In her work, Wood highlights the ways people perform to maintain power or to gain acceptance. Based on true events.
Racial Tensions, 2017. Directed by Christina Hunt Wood. Approx. 3 minutes
In the mid-90s teenagers from all walks of life embraced the rap stylings of the Wu-Tang Clan. In this music video and spaghetti western inspired video, two factions of a rural and predominantly white community meet head-to-head as one group attempts a cultural intervention and the other pushes back to shut down the perceived threat on "traditional" living. Based on true events.
Extended Film Trailer: Smacked…Addiction & Recovery in Rural America. A work in progress by Jessica Vecchione and Lillian Browne. 12 minutes
Vecchione and Browne investigate how law enforcement and the healthcare community cope with the heroin epidemic sweeping the country featuring stakeholders located in Delaware and Otsego Counties. Through the creativity of law enforcement and recovery communities, and unique educational models, recovery and awareness programs have been developed despite scarce resources. Recovering addicts, passionate about their journeys, have volunteered to be a part of this film to help people better understand the intricacies of addiction.
Dissonance (Approx. 9 min) & Tranquility (Approx. 8 min), 2017. By Joseph Von Stengel
Dissonance & Tranquility is a study of two opposing forces that effect our daily experience, technology and nature. Dissonance creates the experience of disruption and noise. Tranquility explores the beauty of boredom found in the natural experience. (Saturday, October 7 all day | Sunday, October 8 all day)
Feral, 2017. Directed by Alexis Guinta. Approx. 5 minutes
A short film about a feral boy in the wilderness who slowly becomes more and more animalistic. Giunta is a talented filmmaker and senior at Delaware Academy High School.
5 Characters in Search of a Remix, 2017. Directed by Jaclyn Tyler Poeschl
Poeschl's comedic video presents multiple character-types who transform between stereotypes and the comedy of the absurd. As the characters transform, the idea of fixed identities is challenged and one becomes aware of the many personalities one can have at any moment. Operating like a DJ, in ways, the work spins the idea of RE-mixing one's personalities.